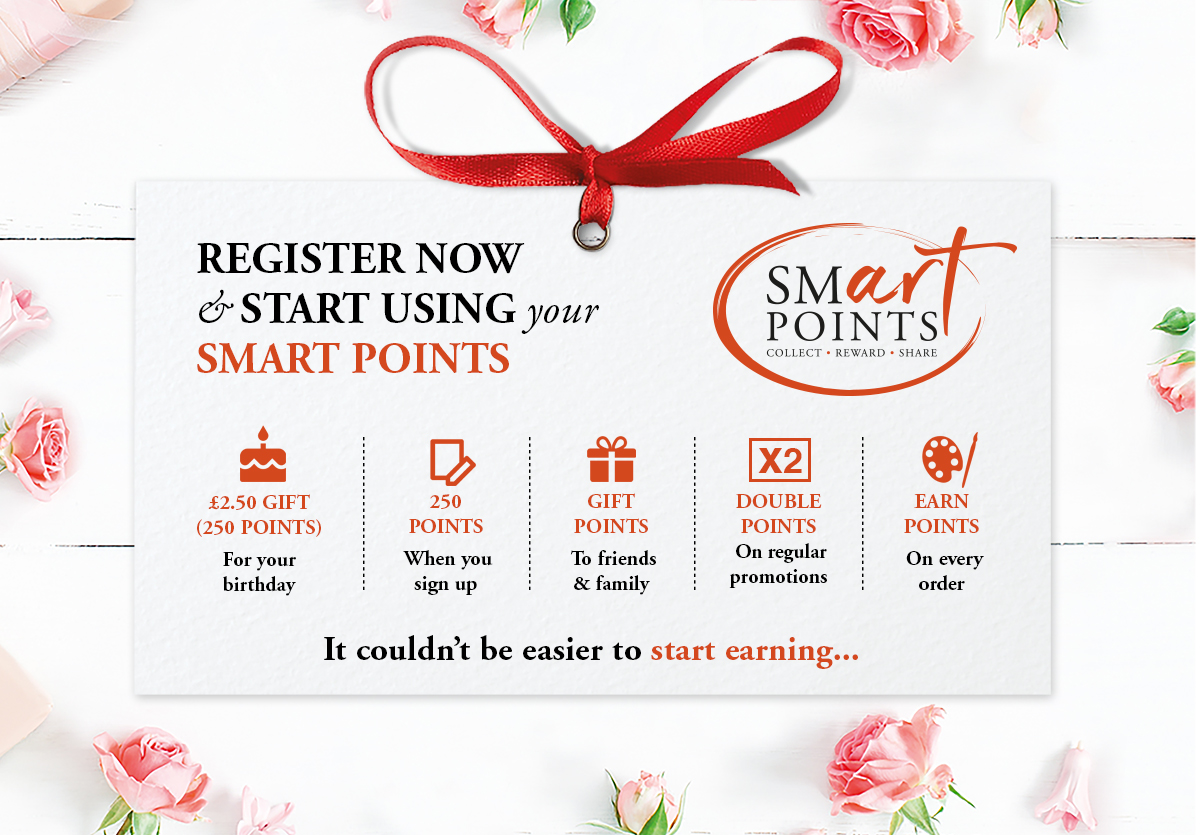 Welcome to Rosemary & Co's Smart Points!
Here at Rosemary & Co, we would like to thank our customers for their continued support and custom and introduce our very own loyalty scheme – 'SMART POINTS'.
You can start earning SMART POINTS the minute you create an account with us. You'll earn 4 points for every £1 you spend in our store and will be able to redeem them on your future orders. You can redeem your points at any time. Earn your first 250 points by simply creating account with us!
Is there any cost to join?
Nope, just register an account and log in before your purchase, then you are ready to go! If you already have an account, just log in.
When can I use my SMART POINTS?
You can use your SMART POINTS on your next order. You can save them up for a special occasion, or redeem them as you go.
Can I transfer my SMART POINTS?
Yes! You can be incredibly kind and gift some or all of your smart points to friends, students or even your teacher! Please know they are not redeemable for cash or anything other than Rosemary & Co products through the website.
How do I apply my SMART POINTS to my order?
During your checkout procedure you will be given an option to apply your accrued SMART POINTS. There you will be able to select to use points on your order and see your updated price.
How can I check my SMART POINTS?
You are most welcome to check your points in your Rosemary & Co account. On your account dashboard, you will see 'My Smart Points'. From there, you can see the Smart Points in your account.
How many SMART POINTS I can get from purchase?

For every £1 you spend, you will gain 4 points. The same goes for American Dollars, Canadian Dollars, or whichever currency you use through our website. In other words, we are gifting you 4% of your order back in brushes! You will also get 250 Smart Points for signing up and 250 Smart Points on your birthday! Some brushes might have double points, this will be made clear on the specific product page.


Can the SMART POINTS be taken away from me?
Points are subject to surrender upon use and will also be surrendered if purchased product is returned. If for some reason your account is suspended or deleted, Rosemary & Co reserve the right to remove SMART POINTS.
What if I purchase from you in person at an event?
You can redeem your points AFTER the event. Please email [email protected] with proof of purchase and we will credit your account. You cannot use your SMART POINTS to pay for brushes at an event for example the Portrait Society of America, Patchings Art Festival and so forth.
Important Information:
Please note: The scheme is operated at our discretion and we reserve the right to cancel the scheme or change its terms at any time with 2 weeks advance notification to customers. Once the scheme is cancelled we will not be bound to make good any unused points held by our customers or compensate customers in any way for unused points.
SMART POINTS are not legal tender, and you cannot redeem them for a cash value.
SMART POINTS work out to be 1p per point, so for example 250 points has a monetary value of £2.50.
Products purchased with reward points may not be returned unless faulty by manufacturer.
SMART POINTS are calculated on the full prices of the product (for those in the UK including VAT price of a product), but they are not earned on shipping costs.
Although most products will usually be available for purchase with reward points we retain the right to withdraw certain products from the scheme or change the exchange value or amount of points available on products.
Smart Points are not redeemable if you have made a purchase through one of our distributors. Smart Points can only be earned through the www.rosemaryandco.com web page.
Any decision made by Rosemary & Co about the allocation or redemption of reward points is final.
Hide
Compare up to 5 Products
You have no items to compare.